What is the Republican debate's-The first Republican debate's biggest highlights: Revisit 7 key moments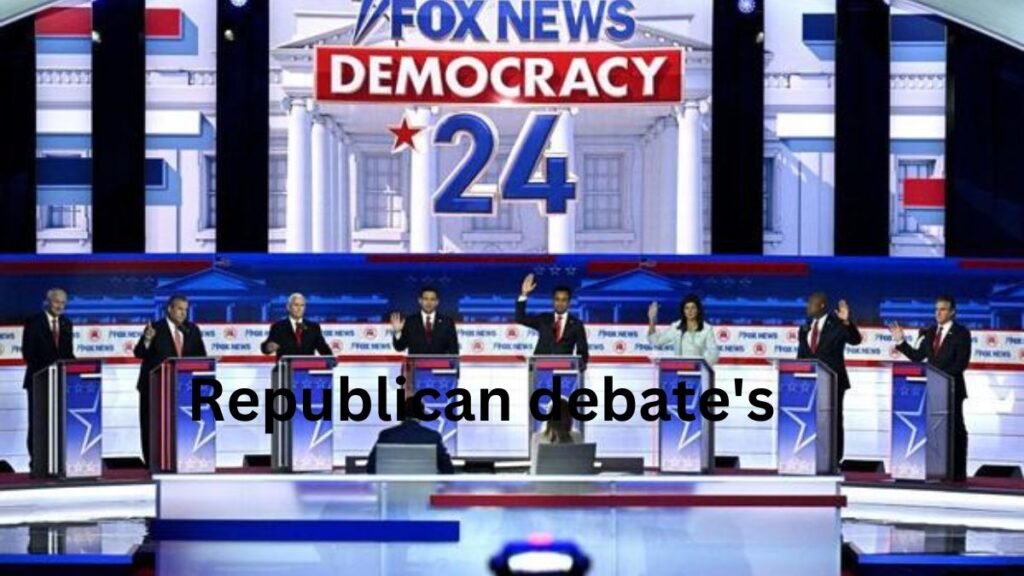 Republican debate of the presidential primary cycle
The inaugural Republican debate of the presidential primary cycle unfolded in Milwaukee, featuring eight Republican presidential contenders. This event marked a significant moment for the candidates, as they seized the opportunity to present their candidacies before their most extensive audience thus far.
The debate saw the participants engage in vigorous discussions on a spectrum of issues, ranging from topics like abortion, the economy, and education to more global matters such as Ukraine. However, the most intense exchanges transpired when the conversation pivoted to former President Donald Trump's absence from the event. His nonattendance was aptly characterized as the "elephant not in the room" by moderator Bret Baier of Fox News.
Among the pivotal moments, the candidates have posed a pivotal question: Would they endorse Trump as the party's nominee even if he faced criminal conviction? With only two exceptions, the majority affirmed their support for Trump.
The roster of contenders in this debate included:
Ron DeSantis, Governor of Florida
Doug Burgum, Governor of North Dakota
Chris Christie, Former Governor of New Jersey
Nikki Haley, Former U.N. Ambassador
Asa Hutchinson, Former Governor of Arkansas
Mike Pence, Former Vice President
Vivek Ramaswamy, Entrepreneur
Tim Scott, Senator from South Carolina
Interestingly, Trump opted to record an interview with Tucker Carlson that coincided with the debate's airing. A recent CBS News poll revealed Trump's commanding lead, securing the backing of 62% of likely Republican primary voters. Ron DeSantis followed at a distant second, garnering 16% support.
During the event, many candidates directed their focus toward Vivek Ramaswamy, a 38-year-old entrepreneur and political newcomer whose popularity has been surging in recent weeks. A memorable moment occurred when Mike Pence referred to him as a "rookie" who would require "on-the-job training" if elected to the White House.
The highlights from the event, which aired on Fox News and extended for approximately two hours, encapsulated the fervent exchanges and insights shared by the Republican candidates.
Nikki Haley, the former governor of South Carolina, didn't hold back in her criticism of fellow Republicans, including former President Donald Trump, concerning the nation's fiscal situation. She specifically targeted Ron DeSantis, Tim Scott, and Mike Pence for their voting records on legislation that contributed to the national debt. Haley also highlighted Trump's tenure, pointing out that he added a substantial $8 trillion to the debt during his single term in office.
Expressing concern for the impact on future generations, Haley remarked, "Our kids are never going to forgive us for this." Her experience as the U.S. ambassador to the United Nations during the Trump administration added weight to her perspective.
Nikki Haley criticizes Trump and other Republicans over government spending
Haley attributed the rise in debt to Republicans' endorsement of a $2.2 trillion COVID relief bill while Trump was in office. She further criticized the revival of earmarks by Republicans, noting that in the 2024 budget, they requested $7.4 billion in earmarks, a figure surpassing the Democrats' $2.8 billion.
In a pointed question, she asked, "Who are the big spenders?" and advocated for a change by suggesting, "I think it's time for an accountant in the White House."
Haley's background includes a bachelor's degree in accounting, and she also served as the chief financial officer for her family's clothing business. This experience likely contributes to her firm stance on fiscal responsibility and her call for more prudent financial management.
Pence takes aim at Ramaswamy: "We don't need to bring in a rookie"
During the early moments of the debate, it was Mike Pence who initiated the criticism towards Vivek Ramaswamy, labeling him as a "rookie" who lacks the necessary experience to hold the office of the president.
Pence highlighted his own proactive stance on addressing long-term national debt concerns, contrasting it with what he perceived as a reluctance by some fellow candidates, including Ramaswamy, to discuss critical issues like Social Security and Medicare. In response to Ramaswamy's statement that a president cannot handle everything, Pence countered with his firsthand experience, remarking, "I've been in the hallway. I've been in the West Wing. The president of the United States has to confront every crisis facing America."
Ramaswamy quickly shot back, emphasizing that finding solutions to the nation's economic challenges "isn't that complicated." He proceeded to outline his own set of proposed solutions. Adding a touch of wit, he humorously remarked, "I'm not sure I exactly understood Mike Pence, his comment, but I'll let you all parse that out."
Pence then reiterated his point, asserting, "Now is not the time for on-the-job training. We don't need to bring in a rookie. We don't need to bring in people without experience." The exchange captured the essence of the debate's focus on candidates' qualifications and readiness for the presidency.
Candidates Engage in Debate Over Federal Abortion Ban
In a significant showdown, the aspiring presidential candidates engaged in their first face-to-face debate centered around abortion rights and the feasibility of implementing a federal law to ban abortion. This pivotal issue is expected to play a crucial role in the upcoming 2024 general election. Surprisingly, among potential Republican voters, the candidates' intentions to curb abortion ranked notably lower in terms of importance compared to other policy objectives, as indicated by a recent CBS News poll.
Nikki Haley led the conversation, describing herself as "unapologetically pro-life." She acknowledged the deeply personal nature of the abortion debate and called upon her fellow Republican contenders to offer transparent insights to the American public regarding the viability of passing a federal abortion ban through the House and Senate. Haley emphasized the substantial requirement of 60 Senate votes for legislative advancement in the upper chamber.
Expressing the complex landscape, Haley stated, "Don't make women feel like they have to decide on this issue when you know we don't have 60 Senate votes."
Haley, a former governor of South Carolina where a law was enacted to prohibit most abortions upon detection of embryonic cardiac activity, advocated for consensus-building on abortion-related measures. She underscored the importance of addressing various aspects, such as banning late-term abortions, promoting adoption, enhancing contraceptive availability, and ensuring that women who undergo abortions are not subject to punishment.
Ron DeSantis, who signed Florida's law banning abortions after six weeks, expressed pride in his decision and spoke in favor of a "culture of life." When questioned about his stance on a hypothetical federal law banning abortions after six weeks, DeSantis asserted his commitment to upholding the value of life while acknowledging that different states may adopt distinct approaches to the abortion issue.
"I will support the cause of life as governor and as president," affirmed DeSantis, the governor of Florida.
Doug Burgum, who implemented a near-total abortion ban in North Dakota, maintained his belief that the abortion issue should be determined by individual states, as he emphasized a return to principles of freedom and liberty.
The majority of candidates, except for Chris Christie and Asa Hutchinson, indicated their willingness to support former President Trump if he were to be convicted of a crime. The question of Trump's potential criminal conviction was described by the moderator, Bret Baier, as the "elephant not in the room." Most candidates raised their hands to show their support, while Christie criticized the normalization of such conduct and emphasized the importance of maintaining the dignity of the presidential office.
Christie engaged in a heated exchange with Vivek Ramaswamy over Trump's support, criticizing Trump's willingness to suspend the Constitution. Christie emphasized his commitment to upholding the Constitution regardless of political pressure.
In regards to the January 6, 2021 events, Tim Scott commended Mike Pence for his role in certifying the votes. Scott asserted that one of his initial actions as president would involve the dismissal of Attorney General Merrick Garland, advocating for impartiality in justice.
Amid discussions, Nikki Haley expressed her trust in the American people's decision-making ability and suggested allowing them to vote and determine the course of action. While acknowledging that Trump remains a divisive figure, she pointed out that public sentiment is shifting towards moving forward.
Vivek Ramaswamy posed a question to Mike Pence, inquiring whether he would pardon Trump on the first day. Pence responded by questioning the assumption of Trump's potential conviction and affirmed that any pardon requests would be evaluated impartially if he were to become the president of the United States.
Candidates Weigh in on Pence's Actions on Jan. 6 and Funding for Ukraine
During the debate, a majority of the candidates expressed their belief that Mike Pence acted appropriately on January 6, 2021, when he declined to overturn Joe Biden's election victory during the ceremonial certification of the election results at the U.S. Capitol. Chris Christie, Tim Scott, Asa Hutchinson, and Doug Burgum all voiced their support for Pence's decision.
Christie lauded Pence for upholding the Constitution and placing his oath of office and the principles of the United States before personal and political pressures. "Mike Pence said no, and he deserves credit for it," stated Christie, emphasizing the importance of prioritizing the Constitution.
Ron DeSantis, however, refrained from delivering a straightforward response despite repeated questioning from the moderators. DeSantis indicated that Pence fulfilled his duty and voiced no objections.
Vivek Ramaswamy was not directly asked the question but interjected to reiterate his willingness to pardon Trump if he were to be elected president.
On the topic of increasing funding to Ukraine, Ramaswamy and DeSantis were the sole candidates to raise their hands in opposition. DeSantis suggested that European nations should take on more responsibility in assisting Ukraine against Russian aggression. Both candidates advocated for redirecting American resources to the U.S.-Mexico border instead of Kyiv.
Ramaswamy indirectly criticized Chris Christie and Mike Pence for their visits to Ukrainian President Volodymyr Zelenskyy, referring to him as their "pope." In response, Christie explained his visit was aimed at witnessing the impact of Russia's actions on Ukraine, while Pence questioned Ramaswamy's foreign policy expertise.
Haley strongly rebuked Ramaswamy's stance against increased assistance to Ukraine, asserting that he prioritized a murderer over a pro-American country. She contended that such decisions would compromise American security and decried his approach.
Haley highlighted that 3.5% of the U.S. defense budget had been allocated to Ukraine, a nation she referred to as a "pro-America country that was invaded by a thug," Vladimir Putin.
Christie Lightens Mood with UFO Comment
In a lighthearted moment during the closing "lightning round," moderator Martha MacCallum posed an unconventional question to Chris Christie about UFO encounters. The question prompted laughter from the audience as Christie playfully reacted to being asked about unidentified flying objects and Martians due to his association with New Jersey.
Christie responded by highlighting the president's responsibility to be transparent with the American people and uphold the values of truth. He affirmed that a president should set an example for future generations, regardless of the topic at hand.